How to create a bootable usb (and then install it on your computer)
This is probably one of the most convenient ways to change the operating system of your computer (or even have a portable operating system that works with any computer!). A while ago, if you wanted to switch operating systems (e.g. switch from Windows to Ubuntu or vice versa) you would have to buy an installation disk, or burn an installation disk yourself.
That process can be really slow, but now, you can do it yourself, storing it in the handy format of a USB! This USB can then be used to install another operating system on a computer, or you can use it as a portable "computer" you can plug in and use everywhere.
This is how I've installed Windows and Ubuntu on different computers before (yes, it will also work for any other operating system). As long as you follow the steps carefully, you'll be up and running on a new system in no time!
You should also have a USB with a bare minimum size of 4GB.
Step 1: Check the minimum requirements for your new operating system
If you've got a fairly new computer, this shouldn't be a problem for you.
Finding the system requirements for an operating system is pretty easy - simply searching [operating system name] minimum requirements in a search engine should show you some results, but make sure they're for the correct version of the system you want to install.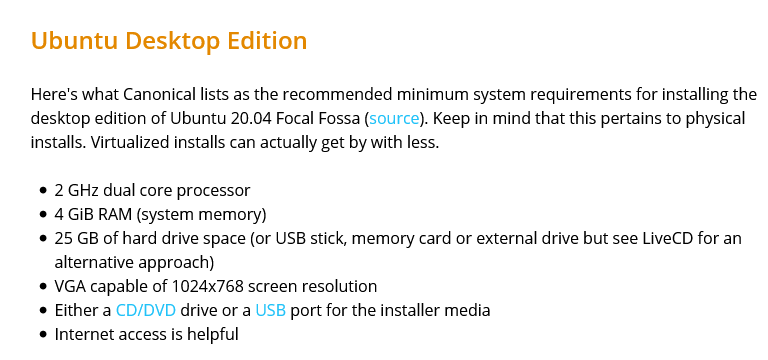 You should check these requirements against your computer's specs:
Step 2: Back up any data you want to keep
If you don't want to keep anything on your computer, skip this step.
This part is really important, because installing a new operating system completely wipes your computer's drive. I suggest saving everything you want to keep somewhere on a different USB.
Step 3: Find and download the operating system
Navigate to the official website for the operating system, then find and download the operating system you want.
The file type it should be downloading should end in .iso. This is essentially an exact 'digital version' of a disk, and what we're going to use to install the new system.
This might take a while, depending on how big the file is, so as it downloads, feel free to move on to the next step.
Step 4: Download Rufus
Rufus is a pretty handy little program that helps you make your USB bootable (meaning you can use it on a computer).
Go to their official website: rufus.ie and download the latest version of their program.
Then, navigate to where you downloaded Rufus, and run it.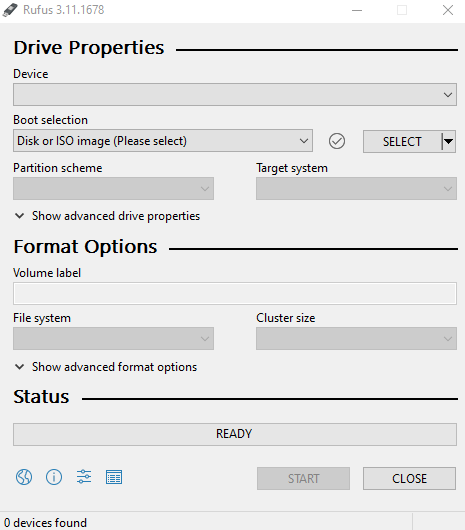 Step 5: Make a bootable USB
Hopefully, your .iso operating system file has downloaded. If not, wait until it has.
Follow these instructions carefully:
Open Rufus (if it isn't already)


In the "device" box at the top of the program, select the USB you want to make bootable.


Below that, where it says "boot selection", set it to "Disk or ISO image" (if it isn't already)


There should be a button, to the right of "boot selection" that says "SELECT". Click it, navigate to where you downloaded the .iso operating system file, then choose it.


Leave everything else as it is.
It should now look something like this: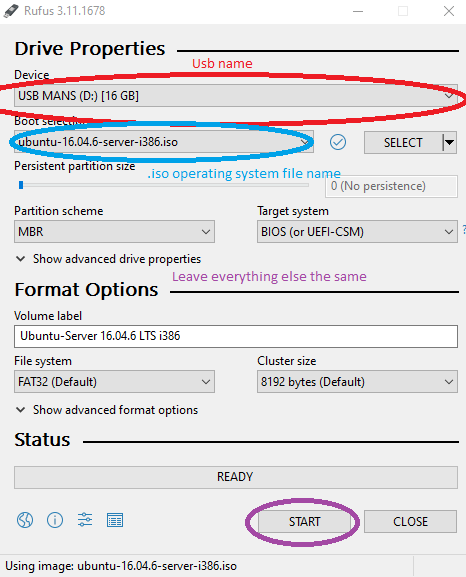 Then press the START button.
It'll give you a warning that everything else on the USB will be erased - just click OK.
After some time (maybe around ~10 minutes or less) it should be finished. You can now close Rufus. The USB is now bootable!
Step 6: Installing the operating system
You're now ready to install the new operating system on your computer!
Once you're ready, and you're 100% sure you want to do this, follow the instructions below:
I recommend just reading the steps first, so you know what's happening and you're reading for it.
Unplug any other USBs or devices from your computer (except for the bootable USB, or course). Plug in the bootable USB to the computer, if you haven't.


Restart your computer and wait for the manufacturers logo to come up (e.g. When it says "Dell", or "Lenovo" or "ASUS", etc).


When this manufacturer logo comes up, press the computers BIOS key (this is usually F2 but also sometimes esc)


After pressing the correct key (it may take a few tries before you find the right one, you can keep restarting), the computer's BIOS menu should come up. While they're all slightly different depending on what computer you have, they all pretty much work the same way.

This is what a typical BIOS menu looks like



Try and find the "Boot options" or "Boot menu" tab (or something else similarly named). Change to that section using the arrow keys.


Hopefully, you will see a section called "boot order", or if not, look for something with a similar name. It should have a list of devices, like "hard drive", "CD-ROM" (if your computer has a disc player), and hopefully, the name of your bootable USB. If you don't see the name of your USB, look for something like "removable devices" or something similar.

This is what the boot order menu should look like.



Using the keys your BIOS menu specifies at the bottom of the screen, move the USB option to the top. This means it will now start up the computer from the USB, so you can install the new OS.


Once you've moved the USB to the top of the boot order, press the save and exit button, then your computer should continue starting up.
Now just follow the rest of the installation instructions you get prompted to do!
At some point during this part of the installation, it may ask you to 'delete partitions' on your hard drive. Delete them all so you have as much disk space as possible and no other issues are caused.
Enjoy your new operating system!